Daruma Ecovillage, Daruma Ecofarm, Permaculture Courses Thailand.
Address: 339/35 Moo 10, Bang Phra, Si Racha, Chon Buri 20110, Thailand
(Google Maps doesn't yet understand our actual address, so please always use the Google Map link provided below)
Travelling To & From Daruma
If you are flying into Suvarnabhumi Airport (BKK) and prefer to be picked up directly, we're happy to do so provided that timing and schedules allow. Personal pickups & dropoffs are available for 1200 baht and can accommodate up to three people.
To arrange a pickup, contact us one week before arrival.
Uber in Thailand, merged with 'Grab'.  You can install the Grab App before departing your own country, then use that to book a driver from either Suvarnabhumi Airport (BKK), or Don Muang Airport (DMK) and a lot of other locations in Thailand.
Pickups & dropoffs are available for around 1200 baht and up.
There is one train a day (weekdays only) which leaves Bangkok's Hua Lamphong Railway Station at 6:55am and arrives at Bang Phra station approximately 3 hours later.
Train is the slowest way to travel to Daruma, but at 30 baht it is amazingly cheap and drops you off directly across the street from the farm.
The return train, from Bang Phra to Bangkok, departs once daily at 3:00pm.
Note: This train operates Monday-Friday only.
At the Bangkok Eastern Bus Terminal at Ekkamai (directly below the Ekkamai BTS stop) approach Window #15 or any window labeled "Sri Racha" and buy a ticket to Bang Phra for 97 baht. Buses depart every 40 minutes.
Buses are also available from the Northern Bus Terminal at Chatuchak(The number of the bus is 705).
Once the bus reaches Bang Phra (ask the bus driver or a neighbor to tell you) take one of the waiting tuk tuks or motorbike taxis to Daruma EcoFarm (next to Bang Phra Railway Station). It's a 10-15 minute drive and costs approx 100 baht.
You can ask a taxi to drive you here from Bangkok or the Suvarnabhumi Airport (BKK). Be sure to explain where you are going and agree on a price beforehand. Taxi will cost between 1000 to 1500 baht.

Print This Map Before Leaving Home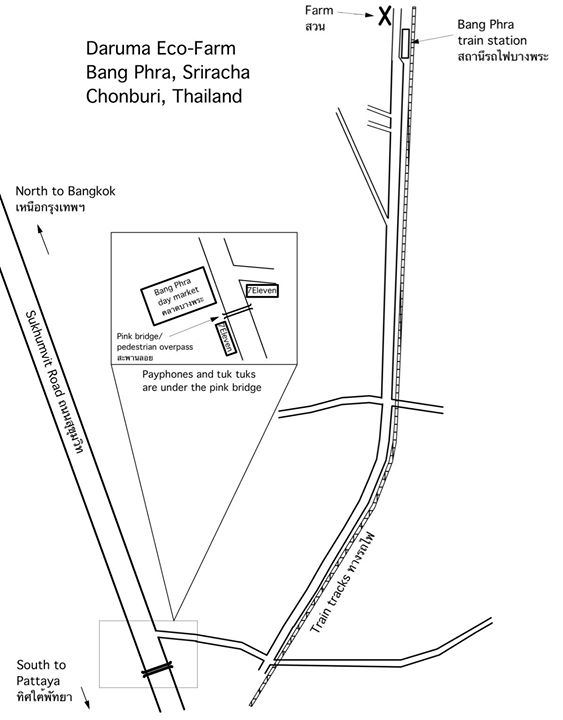 Daruma Ecovillage is located in Bang Phra, Si Racha, just one hour southeast of Bangkok's main Suvarnabhumi airport (BKK), and less than two hours from Bangkok city itself.  Follow this link for our location on Google Maps.
Situated on the Eastern Seaboard of the Gulf of Thailand, Bang Phra is a small-to-medium sized village between the beach resort town of Bangsaen and the larger city of Siracha.  We are 20 minutes or so from both.
There is a large freshwater reservoir in Bang Phra and it is possible to swim and relax there or you would need to travel to Bang Saen beach, Pattaya Beach or take the ferry (about 45 minutes) to the nearby Koh Sichang Island.
You can read more about the local area around Daruma Eco Farm here.
On-Site at Daruma Ecovillage
On-Site At Daruma Ecofarm
Take a video tour of Daruma, shot in 2015 by Jem Moore, award-winning director, musician, author, jet pilot, and all around Baroque kinda guy.
Things have developed considerably in the years after this shoot, and continue to do so.  The video still gives a good representation of some of the facilities, grounds and activities such as permaculture courses that take place at Daruma.