VOLUNTEERS, INTERNS, APPRENTICES
Learn about Volunteering, Internships & Apprenticeships near Bangkok Thailand
Daruma Eco-farm offers several opportunities for volunteering. All volunteers integrate into the Daruma community to learn experientially about permaculture and the ongoing operations of the ecological farm including our alternative school project Mosaic.
WWOOF (World Wide Opportunities on Organic Farms) is a mainstay of volunteering on organic farms around the world. Daruma has been a strong supporter of WWOOF since 2008 and has accepted well over 500 volunteers from more than 35 countries. WWOOF volunteers either contact us through the WWOOF Thailand website or by directly writing the farm. Since there is a membership fee required for the WWOOF Thailand website, we do give priority for these volunteers so if you write directly, be sure to include your WWOOF Thailand membership details.
WWOOF volunteers (wwoofers) participate in a variety of activities relating to the development and maintenance of ecological and natural farming projects, gardens, and integrated animal systems. No experience is required, only a good attitude and willingness to learn. Of course, if you have some special experience, please do tell us in advance so we might be able to use your skill set to benefit our community.
Mosaic School is a full-time, alternative school for Thai and foreign children in our community. Mosaic offers its own volunteer program for those interested in gaining experience in alternative education as well as contributing some effort toward the development of our planet's future. Like WWOOF volunteers, it is expected that Mosaic volunteers both work diligently in their assigned roles and responsibilities as well as accepting the requirements of the Daruma community activities.
If you want to know about Mosaic School click here
There are no fees for volunteering. Many projects in Thailand (and other developing countries in SE Asia) do have small fees for volunteering. We do expect that volunteers contribute to their ability in all aspects of the volunteer work (usually 6 hours per day) as well as the required community activities.
Participation in the Daruma community of residents, students, and volunteers means living mindfully and respectfully of others and the common community spaces. The community shares meals and participates in daily maintenance and cleanliness of the common spaces. The accommodation includes segregated dorms and semi-private areas for couples/families when available. Daruma provides free computer usage with internet access in the Mosaic computer room after school hours. Meals are provided including meat and some vegetarian options (not vegan or gluten free). If you have any dietary restrictions other than basic vegetarian, you must inform us in advance. Unfortunately, we are not prepared to adjust the meals to cater to special diets which also includes making use of the Daruma food resources.
WWOOF and Mosaic volunteers must arrange their schedule to arrive at Daruma during daylight hours to facilitate orientation and community integration. It is also most convenient if your itinerary allows your arrival to be at the beginning of the week i.e. Monday or Tuesday are best. If you cannot adjust your schedule and request arrival Friday, Saturday and Sunday, then your first weekend will be half-day workdays (WWOOF and Mosaic alike). Please communicate your intended arrival and departure dates in your correspondence to allow us to allocate our bed spaces.
To get involved with WWOOF or Mosaic at Daruma Eco-Farm, or for any further questions or additional information, drop us a message below.
Thai Visa Information
Short story: do visa runs every 60/90 days.
We do have the ability to provide a volunteer visa however, the amount of paperwork is so difficult that it is hardly worth it. As far as we can tell, the only advantage is that you can open a bank account for any visa longer than 3 months. And, there can actually be disadvantages too. Even now, when we hire teachers for our school, the Non-O for a teacher requires usually at least one 3 month before the year visa is given. Often the volunteer visa is even more restrictive and they only give a 30 day visa each time. And, it is necessary to pay 1900 baht each month for the visa renewal making this a much more expensive option.
Our volunteer program therefore makes use of the cultural exchange provisions which means you can participate without remuneration on a tourist visa or, if you are from a participating country, the visa waiver (entry stamp). This is pretty similar to how WWOOF volunteering works also.
So the best option is to obtain the tourist visa which is usually 60 days extendable for another 30 at the local immigration office. Earlier this year the government announced no limits to walk across renewals in order to boost tourism. This system is however a 'red light – green light' that can change weekly with different border crossings not doing things the same.
More about WWOOFing
Originally called "Working Weekends on Organic Farms", WWOOF came into being in England, in Autumn 1971, when Sue Coppard, a secretary living and working in London, recognised the need for people like herself, who did not have the means or the opportunity, to access the countryside and support the organic movement.
Her idea started with a trial working weekend for four people at a bio-dynamic farm at Emerson College in Sussex, arranged through a contact in the Soil Association. The weekend was a great success and things gathered momentum very quickly. Soon many more organic farmers and smallholders were willing to host people keen to work on their farms in return for food and accommodation (WWOOFers). Hosts and WWOOFers made new friends and enjoyed the experience of exchanging assistance and knowledge.
Today, WWOOF has grown into a global initiative especially after the main organizations, WWOOF independents and WWOOF international joined together. Most countries however have local WWOOF chapter such as Thailand since 2014.
It seems incredible, but since 2007 when Daruma Eco-farm became Thailand's third wwoof host under WWOOF independents, that we have hosted well over 500 volunteers from more than 35 countries. The generosity and spirit of the volunteers that have given time and energy to help build our project has been amazing and we strive to continue to offer excellent volunteer opportunities as a part of the Daruma initiative towards life-long learning in sustainability.
It has become a significant challenge for volunteers to find inexpensive opportunities to volunteer in Thailand. This even includes many WWOOF sites and this has been an often debated topic in the WWOOF community. Although Daruma Eco-farm is free for volunteering opportunities, please do not choose us for this reason alone. And please do not reject other hosting sites that might offer you an incredible opportunity and has what might seem to be an expensive surcharge. Evaluate every opportunity to volunteer and contribute on its own merit. If hosting sites including WWOOF hosts do ask for a substantial fee for your volunteer work, consider asking them where this goes and how you benefit directly.
Volunteer Stories
In the past decade, Daruma has welcomed over 800 volunteers, interns, and course students, many of whom have recounted their experience at our sustainable farm. Read a number of their stories, comments & testimonials here.
Daruma offers long-term internships between 1-12 months. If you have a specific project you'd like to execute, area of research to complete, or skill to hone that can be applied at Daruma, get in touch with us.
We strive to provide a nurturing environment for productivity and professional development. Internships are unpaid but room and board are provided.
Those interested in applying should submit a 200 (minimum) word proposal on what they intend to work on, along with supporting materials and qualifications. Please also let us know why an internship on an organic farm in Bang Phra, Thailand is of interest to you.
If you are interested in an Apprenticeship at Daruma Eco Village, drop us a message using the form below, or via the Contact page, and tell us a bit about your chosen field.
Interested?  Get In Touch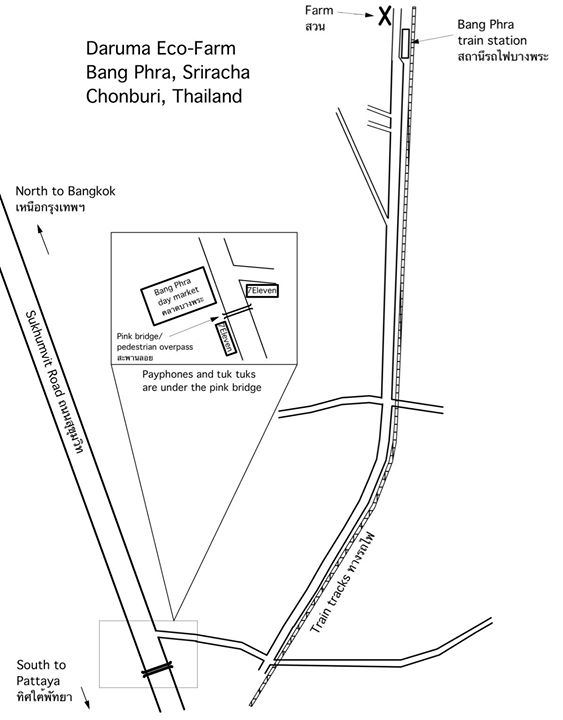 Come for your Natural Building Course in Thailand, and experience Daruma ecovillage at our incredible location only 1 hour from Bangkok (BKK) airport, on the Eastern seaboard of the Gulf of Thailand.